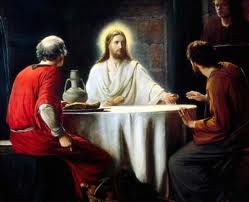 Most people who attend a walk or flight find that they are greatly blessed, encouraged, and excited to go back home and do more with their faith to serve Christ. Imagine taking a retreat with 30 or so men or women who are devoted to Jesus Christ.  Imagine how God can work in your life if you attend seeking a closer walk with Christ.  For most people, they have never been in a setting when so many deeply Christian people are seeking Christ's will and praying for each other.  Small groups or 5 to 7 meet at a table and study together, they also worship, pray, and have fun together.  At the end of the walk they often continue this new friendship with weekly meetings at a restaurant, home or etc.
This close Christian fellowship is often new for people, especially men.  Of course this is great for growing your Christian faith and spiritually.
Testimonies  from laypersons about the Walk to Emmaus–
 "I would say that my fourth day has been a journey spreading the Love that was so eloquently poured on me during my 72 hours on my walk.  Don't let me have you believing that it has been an easy journey.  I have had my obstacles dealing with the dirty devil, but all in all, I have done my best to love on others as Jesus loves on us.  Since I attended my walk, many doors have been opened for me to engage in God's work and spreading His love.  The love I experienced on the walk opened my eyes to how desperate I was and how desperate the world is for a love that can only be found in the embrace of Jesus.  The Walk to Emmaus helped to open my heart and helped prepare me for receiving and getting a better understanding of God's amazing gracious love.  I am a work in progress and I will continue to pray and ask God to open doors for me to help spread His love."  Spencer in Wichita Falls
"I attended The Walk to Emmaus and I'm blessed to have several friends in my home church who have also attended a walk.  One dear friend often refers to experiences in her life as B.E. and A.E., (before Emmaus and after Emmaus).  Before Emmaus, I was a Christian.  I tried to live a good Christian life and to love my family and others as I should.  I attempted to study God's word and to be involved in my church.  And, I've always known about God's unconditional love and grace and I 'think' I could point to times where I experienced His love and grace.  However, while attending my walk, I experienced firsthand agape love and true grace that is so overwhelming.  I also realized that I had not really been "living" as a Christian at all, but was merely playing a role.  While on my walk, I experienced a very real surrendering of baggage I had been carrying around for many years, though I 'thought' I had given it up to Christ years before.  And in laying that baggage at Jesus' feet for the final time, was my heart finally able to share that same love and grace I had received with others."  Judy in Bowie
"When I went on my Walk to Emmaus, I was just coming off a Disciple Bible Study. That's what our Pastor's goal was, to get the group of us through the study and then to go on the Walk. I went there expecting to be a blessing to someone–just sure someone there needed to know what I knew!! But scripture tells us that God has a plan for our lives and He surely had a plan for mine that weekend!! He turned my life around and upside down, but with such love and compassion that I felt surely everyone could see the difference on my face when I left there. I went there as a baby Christian and I received such warm and loving guidance as to become aware that God's grace is so much more than I could ever have imagined. That walk started me down a whole new path on my Christian journey. I was always terrified of public speaking and I definitely did not do KIDS!! But for whatever reason God guided me to become wholly committed to these two tools of grace that we call Walk the To Emmaus and Chrysalis. I have been involved in both of these, in one way or another, since 1990. That is also when I began to realize that God wanted my husband and me to become involved in Youth Ministry. I felt like that fuzzy caterpillar that changes into a beautiful butterfly, with colors and designs that could only be created by God. That is how God continued to use me and bless and restore me with His continual grace and nudging to come alive–to heal a place inside me–to work the plan He had for my life. That's what can happen when you grow beyond what you ever thought you could be, opening your life to God's power and love. That is the whole point of these two movements. To inspire, challenge and equip you for a closer relationship with Jesus Christ and for Christian action in your home, church and community."  Sandy in Vernon
Pastor recommendation
"I have had the privilege of serving six congregations during my ministry.  The two programs that have transformed people and congregations have been the "Walk to Emmaus" and "Disciple Bible study."  Two congregations which I have served have been transformed by "The Walk to Emmaus."  People renewed their passion for Christ and became active leaders in the local church.  Their leadership helped transform the ministry of those congregations.  If you are seeking renewal in your church and want to help people grow as disciples of Christ, I recommended encouraging people to attend a Walk to Emmaus."  Don in Burkburnett
Testimony for Chrysalis
 "I have always been an outgoing person, but through my involvement in Chrysalis, I have gained many lifelong friends with whom I will always share a special bond.  These are friends who I can call on for support at any time.   Chrysalis has been a part of my life for 14 years.   I would recommend any youth to become involved.   There is intimate self reflection in the presence of God, FOOD, friends, FOOD, silliness, FOOD, agape love, and much, much more. To know that there is a community of complete strangers that uphold you in prayer is a comforting feeling.   Even as an adult, I meet people who have been involved in Chrysalis somewhere around the world and now have an instant bond. You'll never experience anything else like it!"  Kristen in Burleson
From Gabe:
At the walk all pilgrims are given instructions specifically about going home. They are instructed about two great dangers. 1) going back and thinking you are special and 2) going back and thinking you are not special. It is a paradox that you must experience. Those that experience the Emmaus walk are given many tools to be better workers for God and to walk closer to God. My experience brought me closer to God than I have ever been. It also ignited a fire in me to do His work. To some it might seem that I was "chosen" but really it was a burning desire to please God and to reach out to non-believers.
Emmaus is not special in the sense that it is not the only way that people have experienced God in the last several thousand years. However, each believer IS special because they are called to go out and do God's work and they are forgiven children of God.
I know that some churches in the area feel that the Emmaus walk is a "cult" and sharply scrutinize any who attend.  Emmaus is not a "cult" because no cult has a purpose of equipping believers to go BACK to their church and do their work there. The Emmaus community is very sensitive to the local church and specifically tells pilgrims to become more involved in their home church. Most pilgrims do not talk in great detail about the walk so that future pilgrims can experience it fully and not be anticipating anything that might happen. Each pilgrim should and will experience the Emmaus in different ways.   Gabe from Monticello, KY
From Another Pastor
24 years ago I went on a walk after being invited by another pastor.  I went because I wanted to serve God in a new way.  Years before, I was sent to my second appointment as a Methodist Pastor.  When I arrived the church told me that they needed training as church leaders.  I did not know how to do that.  They sure had not addressed that in Seminary.  I soon learned how effective Emmaus was in training church leaders.  I encouraged the next couple of churches that I worked in to actively send members to these retreats, and the churches were greatly blessed.  I then became inactive in the community for a few years.
I then changed to the Christian Church, Disciples of Christ denomination. I wanted again to encourage members to be renewed, strengthened and trained, so I became active in the community and began leading walks again.  Both of the Disciple churches that I have be involved in as pastor and in leadership have been greatly blessed as they have had many members become active in Emmaus.
I have now retired, and for the third time, I have become active again and in pastoral leadership of walks.  I know of only great things for Emmaus.   Rev. Jordan Gary